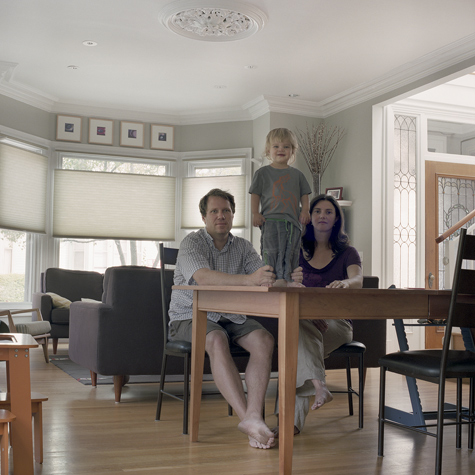 VIRTUAL TO REAL TO DIGITAL 'Bree LaCasse, Chris Moore & Oliver LaCasse Moore, Portland, Maine,' by Tanja Alexia Hollander.
If you've been buzzing about "Are You Really My Friend?" the new installation of Facebook-inspired portraits by local photographer and Bakery Photo Collective founder Tanja Alexia Hollander, you're not alone. Any high-profile intersection between the fine-art world and a massively influential populist medium is bound to cause a stir.
Some excitement comes from factors outside of Hollander's practice. One of the exhibit's major draws is the totalizing cultural fluency of the language of Facebook — even its most ardent detractors at least know how it works. Of course, displaying hundreds of locals in the state's biggest art museum won't lose you any friends either.
If one of these factors may have drawn you to the show, be careful it doesn't obscure Hollander's true brilliance. Her eye has been praised in these pages often enough; the active ingredient here is the conceptual design. Down the long corridor of the museum's crannied fourth floor, Hollander has arranged ten-by-ten-inch color portraits of her Facebook friends (and their families, where applicable) according to display methods borrowed from the digital world. Most are shown in a long horizontal line, as if the photos of an online slide show were strung together. Others backed with magnets adhere to a giant board, where users are invited to drag-and-drop them as they wish. A couple others — most notably the reverent, compositionally stunning portrait of local art maven June Fitzpatrick — are larger and framed; to continue the analogy, they're the exhibit's profile pictures.
Read and see more